CONTACTING CLOAK & DAGGER CREATIONS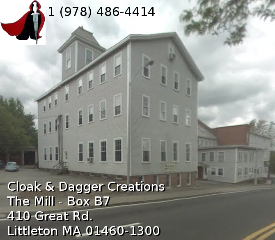 Reach us by:
Phone - 1-978-486-4414 (between 9:30 am and 5 pm, or 8:30 to 10 pm US Eastern Standard Time)

Email - info@cloakmaker.com
If you do not receive an email reply within 3

business

days, please try let us know by email (with a phone number where we can contact you) or - better yet, by calling us - we have been experiencing problems getting our replies to go through. If your needs are urgent, please call, as we can pick up phone messages remotely when we are away.
or write to us at
We have a studio location. You can visit us! But please - call first.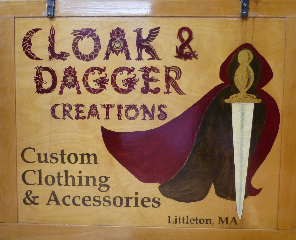 If you would like to visit our studio, please call ahead to make sure we're going to be in the studio when you want to visit. We can often manage same day appointments. Especially for custom orders, we prefer you have our undivided attention and a quiet place to talk. DIRECTIONS: Our studio is located at The Mill, 410 Great Road, Littleton, MA.
Dina Flockhart is the artist and designer at Cloak & Dagger Creations; she does all of the design and has a hand in most of the construction. She has won awards for design, construction, and historical costuming workmanship at county fairs, costuming competitions, science fiction convention Masquerades and Society for Creative Anachronism (SCA) events.

Call, email, or send us a picture or sketch and we'll get an estimate back to you. We're here to dress you as you've always wanted to see yourself! We generally ship costumes by second-day air mail, on receipt of payment.
Any prices in these pages are general, do not include shipping costs, and are subject to change with fabric costs.
Selected trims, clasps and accessories are available through our shopping cart, and we have recently added "Buy it now" for most of the clothing. We encourage you to contact us by one of the above methods if you have any questions about an item, how to make sure something fits, or anything about else about items in which you may be interested. When you place an order by phone, we'll ask you a couple of questions about the size and shape of the recipient, the climate in which you intend to wear it, and whether you want to make any changes to the clasp or add trim. We'll go over the care instructions, then get your shipping and payment information and confirm the amount to be charged with tax (if applicable) and the shipping cost.
Site Index