Cloak:
3675
Cloak Style:
Full Circle Cloak
Cloak Color:
Light Charcoal
Fiber / Weave:
80% wool, 20% nylon
Cloak Clasp:
Triple Medallion

Hood Lining:
Dusty plum cotton velvet
Back Length:
50.5"
Neck Length:
20"
Seasons:
Winter, Southern Winter

$289.00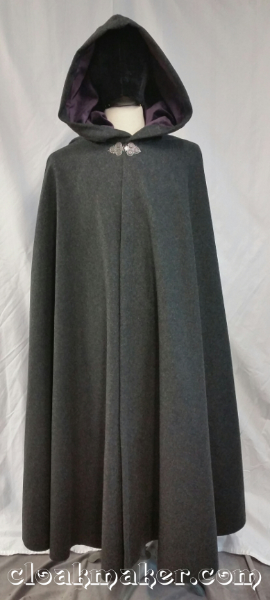 NOTE: Please remember that colors you see on the screen are not reliable. Even when we managed to get the digital colors to match the real world colors on our computer (sometimes we couldn't) that's no guarantee that they will look the same on your monitor. When in doubt about the color, trust our descriptions first - if still in doubt, ask.

Sizing: To fit properly, the neck measurement of the cloak should be 5" larger than the measurement of your neck. Neck size is the first number on a man's dress shirt size or you can measure. To find your correct neck measurement, hold the tape flat against your neck where it can be vertical or standing on edge, with 1 finger inside the tape measure to hold it in place while you get the number. If you don't have a tape measure, you can also measure with a string or a long strip of paper, then compare the string to a ruler.

For Length, the cloaks are measured from the back of the neck to the hem, so as a quick approximation of the maximum length you should wear, take your height in inches, subtract 12 for your head and neck, and 4 more for the minimum distance off the floor. So for someone 5'10", you start with 70", subtract 12" to get 58", and then 4" more to get 54" as maximum length, and 52" as a more practical length.

SEASONS: How warm or cold you run varies with the person, but we give seasons as a general guideline since most customers can't visit to try things on for themselves. The most appropriate season is listed first, so a cloak with "Winter" listed as the first season would not be a good choice for an indoor or summer event. When we say winter, we're talking about a cloak that is decently warm at 20 to 39 degrees Farhenheit and winds of 20 -25 MPH with light layers underneath - average New England winter. If it says just "Winter", it is a very warm garment not really suitable at temperatures above 49F. Southern Winter is often a cloak with less wind resistance and a bit thinner fabric which might be good at 30 to 49F and 10 to 15 MPH wind. We consider Fall and Spring to be 40 to 60F, with Summer as 60F and above for temperature, roughly the same as indoors.

Please contact us to complete your order if you wish to avoid using Paypal. Paypal processes on-line credit card orders for us - a Paypal account should not be needed. Using the on-line shopping cart avoids any data-entry problems on our end for addresses and provides an extra layer of buyer protection.



WE CAN SHORTEN ANY CLOAK, we can change clasps and we can add trim, (however this can affect whether the cloak can be returned for full value)
Cloaks ordered before 5 pm can usually be shipped on the next business day, but this is not guaranteed. If time is a factor, please contact us for shipping concerns. We will quote and ship via Express Mail or other premium service if requested.


Subject To Prior Sale:
All of our cloaks are one of a kind items and are subject to prior sale. We try to make every effort to remove items from the web as as they are sold. However, occasionally something may get overlooked. If this happens we will either duplicate the item, substitute with another item of your choosing or give you a full refund.

Washing instructions: (unless otherwise noted)
All non-wool items are pre-washed and machine washable on gentle cycle, hang to dry
All wool and velvet items are dry clean only (unless specified otherwise)


Site Index
All contents copyright © 2003 - 2018, Cloak and Dagger Creations. All rights reserved. Material noted to be from a different company or individual is copyrighted by that company or individual.