| | |
| --- | --- |
| Robe: | R429 |
| Robe Color: | Black, Brown, Grey Twill |
| Front/Collar: | open neck |
| Fiber: | Wool Blend |
| Neck: | 27" |
| Sleeve: | 38" |
| Chest: | 75" |
| Length: | 67" |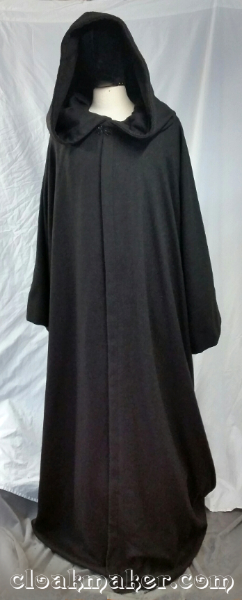 NOTE: Please remember that colors you see on the screen are not reliable. Even when we managed to get the digital colors to match the real world colors on our computer (sometimes we couldn't) that's no guarantee that they will look the same on your monitor. When in doubt about the color, trust our descriptions first - if still in doubt, ask.

Please contact us to complete your order if you wish to avoid using Paypal. Paypal processes on-line credit card orders for us - a Paypal account should not be needed. Using the on-line shopping cart avoids any data-entry problems on our end for addresses and provides an extra layer of buyer protection.

Subject To Prior Sale:
All of our one of a kind items are subject to prior sale. We try to make every effort to remove items from the web as soon as they are sold. However, occasionally something may get overlooked. If this happens we will either duplicate the item, substitute with another item of your choosing or give you a full refund.

Washing instructions: (unless otherwise noted)
All non-wool items are pre-washed and machine washable on gentle cycle, hang to dry
All wool and velvet items are dry clean only (unless specified otherwise)


Site Index
All contents copyright © 2003 - 2018, Cloak and Dagger Creations. All rights reserved. Material noted to be from a different company or individual is copyrighted by that company or individual.