MONK & JEDI ROBES
FREQUENTLY ASKED QUESTIONS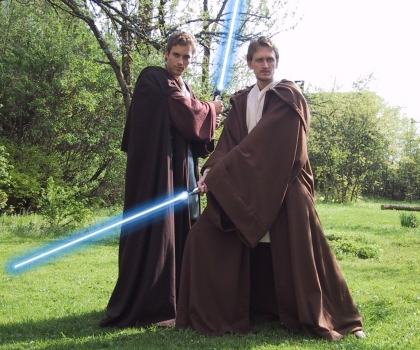 Petter as Anakin Skywalker and Gøran as Obi-Wan Kenobi
How much are you asking for the jedi robes?
For adults, the outer robe ranges between $200 and $350 in wool, depending on your size. We make each one up individually, to the customer's measurements. For children's sizes, the cost ranges from $65 (toddler) to $200 (teen). The standard closure for the robe is a hook and eye at the neck, same as was used in the movie. With that closure, the front overlaps by about 2-3 inches.
How much more is the complete costume?
For an average size person, Episode I style, the tabard (the two pieces that hang down), Gi top (wrap jacket), undertunic, cumberbund (belt) and brown or cream drawstring pants add another $275 to $495 or so, depending on exactly which fabrics we use. Episode II undergarments will cost considerably more due to the lined jacket - add $550 to $750 to the cost of the robe for the complete set. We only do the fabric parts of the costume - leather belt, boots and lightsabers are available from other vendors.
Could I get that in black?
You can get them in black, brown, green, red, grey, or any other color you want.
What about making a robe in hot pink transparent plastic with and bells?
We could do that. But we won't.
Can you make a scream robe?
The short answer is that we produced some, and we're not going to do it again, AT ANY PRICE!!
We sourced Scream 2 robe fabric, that fabric is now out of stock and no longer available ANYWHERE. One of our helpful customers called the movie studio to check on the costume details. Amazingly bad idea. This resulted in stern lecture from the movie studio about copyright issues. The result is we don't actually want to work on scream robes ever again!
What about the monk's robe?
The monk's robe is a simpler cut and tends to run $150-300 depending on fabric and size.
That includes the slip-over-the-head robe, the separate hood and shoulder cowl, and the rope belt. We can do a monk's robe in any color.
These are approximate, and in general worst case estimates. We try very hard to stay within our estimates, so we would rather give a slightly high estimate and have you pleasantly surprised if somthing comes in at a lower cost.
How do I measure for robes and how can I get a quote?
To give you a more accurate quote, we need at minimum, your dress shirt size which gives us neck and sleeve, suit size which gives chest and overall proportions, pant size for waist and overall height and weight. We also need to know if you prefer a particular Jedi robe style and the weight and type of fabric. If you like the quote, we can get more accurate measurements later.
How do you handle payments for custom work?
We need a deposit to start work, usually ½ depending on the fabric vs labor costs and your deadline. You can order one piece at a time and the backlog for non-rush orders is generally 12 weeks. (rush orders are subject to a surcharge) We take: personal checks, money orders, MC, VISA, AMEX, Discover
---
Site Index